Award winning author Dave Cousins visited our Academy to mark the end of our Transition Reading Challenge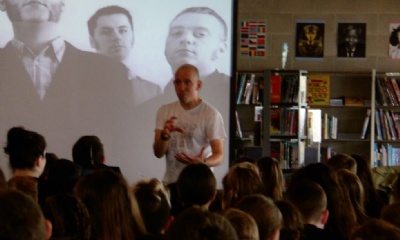 Dave Cousins ws chosen as this year's Transition Reading Challenge author. Year 7 students were tasked to read Dave's book Charlie Merrick's Misfits I'm a Nobody Get Me Out of Here! over summer and complete an activity sheet based on the story.
For the finale of the challenge Dave was invited to the Academy to talk to the students about his life, how he became a writer, what books he enjoys reading and where he gets his inspiration. Dave also took part in a Q & A session, signed students' books and selected four winners of the activity sheet challenge.
Well done to the winners who are as follows:
-Leida T
-Ewan M
-Rebecca F
-Ollie B
CBA Librarian Amy McKay said: 'We hold the transition reading challenge every year to help students become familiar with the library before they start. The students all visited the Academy at the end of the last academic year and were set the task to complete over the summer.
We always try to pick a story, which has a bit of humour in it and appeals to a students with different interests and reading abilities. I think that students really enjoyed reading Charlie Merrick's Misfits this year and really engaged with Dave when he visited the Academy. He always gives an active high-energy talk, which really entertains the students and they find it hugely interesting to find out more about the author who wrote the book and ask any questions they have, plus it's a real treat when they are able to get their books signed.'