Local entrepreneur inspires business student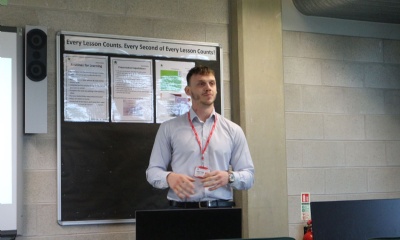 Matt Miller, Co-Founder and Creative Director of Sinple treats recently visited our Academy to share his experience of setting up a business.
Matt spoke to Year 12 business students about launching a local dessert company that specialises in making and delivering pizza shaped brownies to your door.
Sharing his own personal journey to success, Matt spoke about his educational route and the business pitfalls he faced along the way. He gave students advice on setting up their own company including the skills needed and the importance of branding and social media to create hype.
Matt also gave students a variety of advice about interviews and writing their CV. He finished his presentation by giving students some key tips on being successful, he said:
Don't be scared of public failure - if you have a good idea shout about it. Businesses grow by sharing their ideas
Learn from your mistakes
Cater for your employer – not one shoe fits all. You need to make sure you tailor your CV and Cover letter.
Cater the ideas you discover to that person/business - show genuine interest.
Treat your personal Statement like a CV
Dress to impress
Do your research
Get an overall goal
Business teacher Mrs Allan said: 'The Year 12 students are currently studying entrepreneurialism as part of their course and having Matt come into their lesson and talk about how he used these skills to create his own company was invaluable.
'The talk was incredibly inspirational and having Matt come in, who owns a real life local company, has a massive impact on the students.'