Brit Kids teacher encourages innovation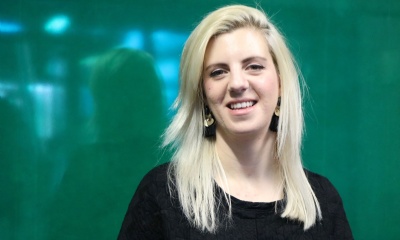 Emily Boyd, who teaches art and fashion at the BRIT Kids Saturday classes, has a proven track record in the industry, having launched her own fashion business and worked in menswear design for Alexander McQueen.
Emily, who is Head of Art and DT at Corby Business Academy, is proficient in a range of disciplines and wants to introduce students to some of the cutting edge technologies and designs she is familiar with. She wants to expand their creative horizons and introduce them to 'city style and innovation'.
She did a degree in illustration at the Camberwell College of Art and a Masters in Digital Surface design, before working on McQueen's McQ menswear brand. She then set up her own fashion business selling hand printed clothes and bags, expanding it to an international clientele.
Emily was already familiar with the BRIT School so was delighted to get involved when she heard they were setting up classes in the Midlands. 'When Clive Wears, the Director of BRIT Kids at Brooke Weston Trust, said they were going to come to this school I jumped at the chance as it was amazing and I really wanted to back it. It was a massive thing for the BRIT School to branch out and it is important for us at CBA to have a connection with our community. It gives students a chance to access lots of equipment and expertise and I would have loved something like this when I was younger.
'It is also really good for me to teach a range of ages, doing something for fun and the BRIT Kids students are so into the classes and they do lots of different disciplines. This term they are split into different age groups, and the older ones want to do fashion so we'll be creating T-shirts, doing screen printing and specialist work.
'I have been looking at the BRIT Kids Croydon Instagram page and they have some really interesting projects, particularly for textiles where they make their own logos and badges so there's lots of ideas out there. The children have really enjoyed the classes so far and we want them to follow their interests, but in a relaxed and laid-back environment.
'We wanted to recruit teachers who are really skilled in their own specialisms and we have some amazingly talented and creative staff. It has been a positive, exciting and experimental start and eventually it would be great to expand the programme and have whole school as a hub for creative arts.'