Christmas Unit Sale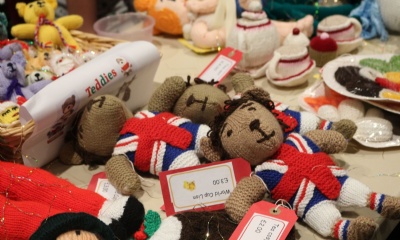 This year, the Unit Christmas sale was once again held in the main theatre due to the event's popularity.
The sale comprised of a variety of stalls including tombola's, raffles, homemade gifts and Christmas treats with a café selling cakes and drinks.
Bee Special, the Academy's Young Enterprise Team Programme Company, sold their new lip balm product. The lip balm comes in three delicious flavours: chocolate, sloe gin and coconut.
Mainstream students also took part in the sale and the library supported the event with a bookstall and raffle to promote reading for pleasure.
Assistant Manager of the Unit Provision Caren Brown said: 'This is an invaluable opportunity for students to demonstrate life skills in a purposeful environment, embedding taught literacy and numeracy skills from lessons into a real life situations. The students also increase their social skills and self-awareness by interacting with the public through serving people on stalls, meeting and greeting and taking orders. The students and staff work hard in preparing for the sales throughout the year and gain a huge sense of satisfaction when they sell their products.
'A big thank you to all our customers, staff, parents, friends and professionals for their continued support. The money raised will be used towards the C group residential in July, maintenance of our kitchen garden, enrichment activities, a book area in Y group classroom, and to subsidise life skills activities.'