CCF instructors complete training at Frimley Park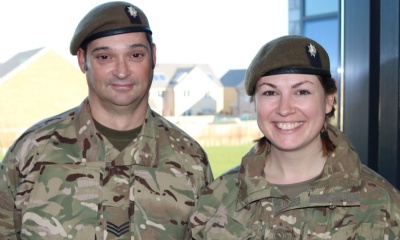 CCF sergeants Louise Jensen and Paul Twamley successfully completed an intensive course of basic cadet training so that they can better understand and teach the syllabus to students.
The pair underwent a six-day course at Frimley Park in Surrey. They did all the activities that are expected from cadets, including surviving on ration packs, making their own bashers (shelters) and sleeping outdoors in the field.
Louise, who is a teacher at Corby Business Academy, said: 'Basically they put you through the basic training for a cadet and give you extra advice; how to teach it, how to give them an understanding that you have been through this process and have a bit of empathy with what they are doing. The idea is that you are learning the knowledge in order to pass it on. We did weapons handling, went on the range and did some live firing. There was orienteering and navigation which was good. We also had a proper formal Mess dinner and I was also presented with an Endeavour Award.'
Paul added: 'My favourite bit was the shooting. At CCF we obviously have the weapon handling training but I have never fired a live round. I was shooting at 100 and 200 metres and got a bullseye in each, so I did much better than I thought I would. I also enjoyed the obstacle course and the camouflage and concealment exercise. Basically you went into the field, cammed yourself up, used grass to conceal yourself in the undergrowth and had one of the officers trying to spot you. He held up a letter and if you could read the letter and he still couldn't see you then you had beaten him. I had a good spot so I beat him. It was a bit like hide and seek for soldiers!'