CBA students attend Carnegie shadowing event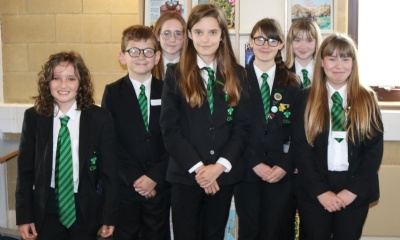 Students from Corby Business Academy were among those from six Trust schools that attended a Carnegie Shadowing event at Brooke Weston Academy where students met to discuss this year's shortlisted titles and vote for their favourites.
Our students joined those from Beanfield and Oakley Vale primary schools, Brooke Weston Academy, Corby Technical School and Kettering Science Academy at the event at BWA.
They were split into teams and took part in a quiz before CBA Librarian (and Carnegie co-ordinator) Amy McKay spoke about some of the best young adult fiction available at the moment. Then students got up in front of the audience to 'book push' arguing convincingly for which title they thought should win the prestigious Carnegie and Greenaway awards. The votes were cast and 'The Day War Came' won the Greenaway prize for illustrated books while 'The Poet X' had most support in the Carnegie fiction category. The actual results were announced at lunchtime today (18 June 2019) when The Poet X won the Carnegie Prize and The Lost Words won the Greenaway Medal. Prizes of goody bags of books were handed out to students from each school who won the quiz and also those who were judged to have presented the best argument for their chosen book.
BWA's Librarian Wendy McCabe said: 'We have about 60 students here and I know in my group there have been lots of interesting opinions about the books. There is always some lively debate about which book should win and this is a great way of getting students reading and talking about the latest titles.'
To see a gallery of pictures from the event click here.