CBA team win category in Trust Bake Off competition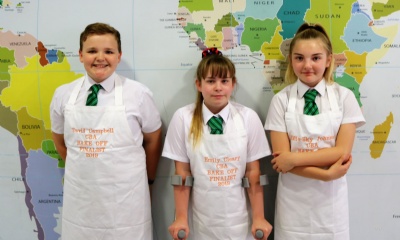 Well done to our Bake Off team who won the Best Individual Item category in the recent Trust Bake Off competition.
Our team chose a Toy Story theme and their winning bake was an impressive victoria sponge bed decorated with stars and icing. The bakers, Ellie-Sky Johnson, David Campbell and Emily Cleary all wore personalised aprons to the final, held at Thomas Clarkson Academy.
Students from four different Trust secondaries have been preparing for weeks for the challenge, staying on after lessons to bake different recipes and create a themed menu.The teams had to create three desserts, two savoury items and a drink.
The Bake Off competition has been running for years and is co-ordinated by Trust Catering Manager Chris Lapsley. He said: 'It has really been a good standard and each school is upping their game each year.'
Chris Stewart and Tim Laws from the Trust Central Team, along with Chris Lapsley and two catering suppliers were on the judging panel. They scored each item on consistency presentation and taste.
Ellie-Sky said: 'It went pretty well, everything turned out how it meant to. I made the alien cupcakes and the drinks. I have like the competition, having fun and baking.'
David Campbell said: 'We chose Toy Story because of the new movie. I did the toy box meat loaf and the potato heads. Coming from the trials to the finals mean that we have become close friends and I do a lot of cooking at home.'
Emily Cleary said: 'I made the bed out of Victoria sponge and the biscuits. The last half hour was the biggest rush. I really enjoyed the baking and creativity of the project.'
Senior technician Debbie Riley, who runs the competition at CBA said: 'The students have really enjoyed it and worked well together over the six week trials. Doing a process like this promotes food technology and gets students used to planning, cooking and learning to read recipes. Our team has been consistently good, winning their heats each week and I am very proud of them.'
To see a gallery of pictures from the event click here.