Sixth Form Sports Industry Trip to London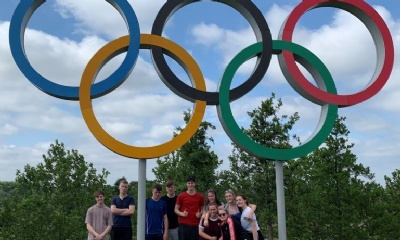 This term students in Year 12 and 13 took part in a two day sports industry trip to London. The trip allowed the BTEC Sports students to explore different career options available within the field.
On the first day of the trip, the students visited the Emirates Stadium, home to Arsenal Football club. Students had the opportunity to tour the home dressing room, walk out onto the pitch through the player's tunnel and experience the finest in club hospitality. Following on from this, the group travelled on the Underground to Barnet to participate in a game of foot golf, a first for many.
During the second day, students visited some of the top sightseeing spots in London including Greenwich and Canary Wharf; the epicentre of London's finance district. The group then travelled on the Docklands Light Railway to Stratford where the students were able to explore Westfield Shopping Centre and look over the Olympic park. The final excursion was to the Olympic Velodrome. Here the students took part in an hour of cycling on the same track used in the London 2012 Olympics. PE teacher Mr Hallam said: This was an amazing experience where the students had the whole track to themselves and had the challenge to ride on bikes without brakes or gears. The whole trip has provided students with a great insight into the professional sporting industry and shown them the variety of roles within the field.
'Due to its success we look forward to running the trip again next year.'