Dragonsitter author visits CBA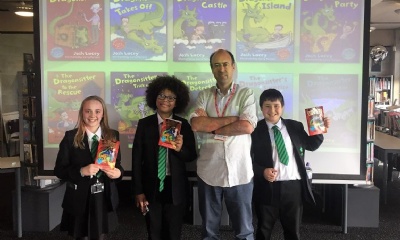 Our Year 7 students had the chance to meet Josh Lacey, the author behind this year's Transition Reading Challenge Book, 'Dragonsitter Disasters'.
The students all received a copy of the book from the library staff as a gift in July. This was to encourage them to read and so that all of the new Year 7s would have something in common to discuss when they joined us in September.
The students were also asked to complete an activity sheet over the summer, which involved fun topics like building a den or describing any odd food they had had over the holidays. The sheets have been on display in the Library this term and the book has also been used in Library lessons as well.
Librarian Amy McKay said: 'Josh visited to give a talk and sign all of the students' books so they were really excited to see him. We have been doing the Transition Reading Challenge for a few years now, however this year has been really successful with 75% of Year 7s returning their completed sheet. Also the other books in the Dragonsitter series have been consistently out on loan since Week 1, so that shows the impact that the book and the Challenge has had.
'Josh talked about where he got the idea for the series, did a quiz with students highlighting the importance of first lines and gave them tips on improving their own creative writing. The students really enjoyed his talk, to the point that they would have carried on asking him questions and talking to him well past home-time if we'd let them!
'It was a lovely day and a real treat to welcome Josh to Corby Business Academy. For me, perhaps the most surprising thing was the weird food our students had enjoyed over the summer as it turns out a lot of them love chips dipped in milkshake!'