CBA student wins award for soundtrack composition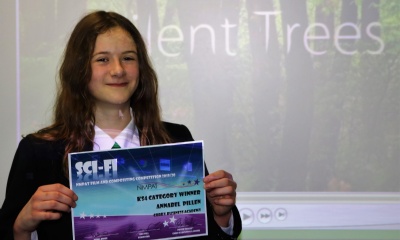 Well done to Anabel Pillen, from Year 10, who has won a competition with her imaginative film soundtrack composition.
Anabel won the KS4 category of the 'Sci-fi film and compositing' competition for the whole of Northamptonshire. It was run by NMPAT – Northamptonshire Music and Performing Arts Trust and the top entries were screened during the recent awards ceremony. She did her work as a part of a class project and music teacher Matt Smith submitted the best entries.
Anabel said: 'I wrote the music for a short film that featured little tree people. I picked the harp, which was an instrument that I thought went well with it and then added a lot of percussion to make it more interesting. I was pleased with the finished result which took at least three hours to complete and I was a bit surprised when my entry won!'
Mr Smith said: 'Anabel has a very good ear for this task and used appropriate sounds that were subtle but effective. She picked one of the better videos that had nature scenery and added gorgeous music at the beginning. Then a hunter is introduced and so it gets quite dark so Anabel mirrored the music to his movements. The emotion of it was spot-on. She created about ten different tracks to form this one piece, has done a proper job with it and the end result is brilliant. She worked independently so this award is a credit to her creativity.'
To see Anabel's work on Youtube click here.