Wow! programme featuring CBA student online now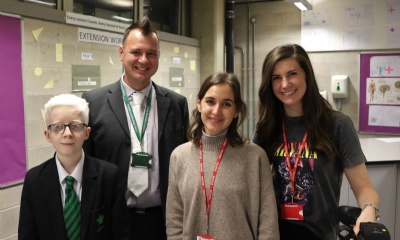 Harry Boden, a student from Corby Business Academy, has appeared in a television programme featuring young people using the latest technology to help in their lives and learning.
Harry, from Year 8, has visual impairment and uses a high-tech headset in the majority of lessons. He and his classmates were filmed for Wow! which is available to view on the Sky Kids channel and NowTV!
The footage shows Harry in a science lesson where metal samples were ignited to produce different colours. Science teacher Mr van Niekerk said: 'The new headset enabled Harry to take part in the practical experiment safely as previously he would have needed to get too close to the flame in order to see, which obviously wouldn't have been safe.'
Harry said: 'I really enjoy using the headset because I can see things I wouldn't normally be able to. I use it in most lessons.'
Learning support assistant Suzanne Thoirs said: 'The goggles have enabled Harry to read books of any font size, access information from the white board during lessons at the same time as his sighted peers, accurately record measurements and sit anywhere in the class whereas previously he had to sit at the front.'
The programme makers said: 'Harry and his brother Max featured in the episode about how robotics and technology are helping in health care and we wanted to show how these headsets are helping in the school and home environment.'
To view a gallery of photographs of filming at CBA click here.
To view the programme click here