Aimee raises more than £3,000 in skydive attempt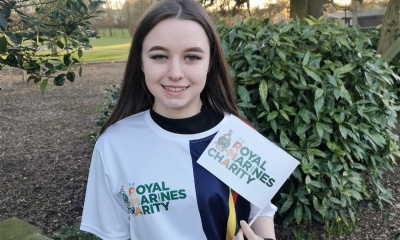 Our Year 11 student, Aimee Ballantyne, has had to postpone her charity skydive but lockdown has allowed her to triple her fundraising total to a whopping £3,000!
Aimee was inspired by watching a TV documentary about military veteran Mark Ormrod, who suffered devastating blast injuries in Afghanistan and she vowed to raise cash for the Royal Marines charity.
She originally sold wristbands and stationery to friends and family plus many of our teachers also sponsored her. She had originally planned to raise £1,000 but now has boosted her total with lockdown fundraising including raffles and online bingo sessions for 90 people which she organised herself!
Aimee said: 'I was so inspired by Mark's story that I decided to sign up for the skydive. It was due to take place this month but, due to lockdown, it has now been postponed until 30 April. However I have continued to raise money. Before Christmas I made 300 sweetie and hot chocolate reindeer cones and they all sold out! Since then we started a raffle and so many people donated prizes, along with Elisha Dexter, who kindly donated little hampers of sweets for the work I had done, which I wasn't expecting.
'We held two bingo nights in October and February. The last one was totally online with 90 people and we raised about £630 just on that night! My original goal was to make £1500 and I am over the moon with how much we have managed to raise – thanks to everyone who has supported us or donated in any way.
'My brother Will, father Garry and foster sibling, Ben, said that if I raised £3000 then they will have their legs waxed to show their support so that kept me motivated and on target!
'I am really looking forward to the skydive but I am a bit nervous as well. We are hoping that we can have a few socially distanced spectators including my family and boyfriend as they have given me so much support during this process.'
Aimee's mum, Lynnette, said: 'I am so proud of everything that Aimee has achieved. We have all supported her as a family and she has been so focused on achieving her goal. It is a total credit to her that she has achieved so much.'
To see a previous story on Aimee click here.
To see a Northants Telegraph story on Aimee click here.
To donate to Aimee's Just Giving page click here.