Mental Health Awareness Week 10th - 16th May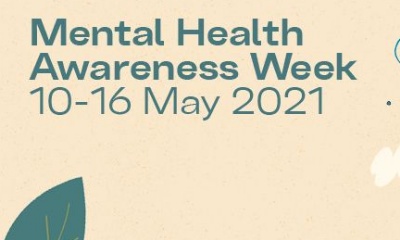 Corby Business Academy are proud to be promoting Mental Health Awareness Week from Monday 10th May to Sunday 16th May.
The Mental Health Foundation are focusing on connecting with nature for this year's Mental Health Awareness Week, to open our eyes to the power of nature and inspire everyone to get involved during the week in some way.
The aim of this week is for students and staff to understand and develop their awareness of mental health. The Student Care Team have prepared a number of activities for students to complete throughout the week focusing on different aspects of mental health as well as a presentation 'Talking about Your Mental Health'.

What is Mental Health?
Mental health is made up of our thoughts, feelings, mood and behaviour. We all have mental health, just like we all have physical health.
When our mental health is good, we feel emotionally well, able to look after ourselves and able to engage with the things we care about. Whereas when we struggle with our mental health, we can feel unable to cope, which can make it difficult to manage in our daily lives. For some people these difficulties may come and go, and for others they may last longer.
Mental health is not fixed throughout our lives. Just like physical health, it can change depending on experiences and circumstances as people move through different stages of life.
How can you look after your Mental Health?
Talk about your feelings – This is not a sign of weakness, it is part of taking charge of your wellbeing and doing what you can to stay healthy.
Keep Active – Experts believe exercise releases chemicals in your brain that make you feel good!
Eat Well – There are strong links between what we eat and how we feel. Your brain needs a mix of nutrients to stay healthy and function well, just like other organs in your body.
Keep in Touch – Strong family ties and supportive friends can help you deal with the stresses of life. Friends and family can make you feel included and cared for.
Ask for Help – None of us are superhuman. We sometimes get tired or overwhelmed by how we feel or when things go wrong. If things are getting too much for you and you feel you cannot cope, ask for help.
Accept who you are – Some of us make people laugh, some are good at maths, others cook fantastic meals. Some of us share our lifestyle with the people who live close to us, others live differently.
Care for others – Everyone is important, we help each other whenever we can, so it's a two-way street and supporting them uplifts me.
With the increased need for mental health support over the previous year, Corby Business Academy now have a Designated Mental Health Lead, Mrs Bartlett. As part of the Student Care Team, Mrs Bartlett will work with staff and students to promote mental health more fluidly going forward, to not only increase awareness but to influence students and young people to explore and practice ways to work through their problems.
If there are any concerns or questions that teachers, students, parents and carers may have please email tamara.bartlett@corbybusinessacademy.org
We appreciate your support.
#ConnectWithNature #MentalHealthAwarenessWeek
Please see below some contact numbers and links if you are struggling with mental health and would like to seek support:
CAMHS Live (live chat service with CAMHS) - https://www.nhft.nhs.uk/camhslive
SHOUT Counselling text service - Text 'SHOUT' to 85258
Child Line – Offer an online counselling 1-2-1 chat service or a call service https://www.childline.org.uk/get-support/1-2-1-counsellor-chat/
Mind – 0300 123 3393
Samaritans – 116 123