Corby Business Academy celebrate GCSE results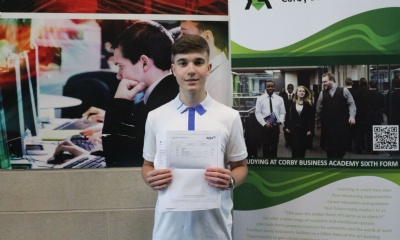 Students and staff at Corby Business Academy, part of the Brooke Weston Trust, are celebrating 2021 summer GCSE outcomes.
Top performers include Blazej Puchala and Aaron Rawlins, who both achieved grade 9s across all their subjects studied. Blazej achieved eleven grade 9s and Aaron achieved nine grade 9s. Alan Zajac gained seven grade 9s, two grade 8s and a grade 7 and Angela Bujac secured seven grade 9s and two grade 8s.
There has also been real success with high levels of progress made by many students during their time at the Academy. Top performing students in regards to progress include Bethany Aveyard, Marvin Camara and Daniel Zelinsky.
Principal, Simon Underwood, said: "It has been a pleasure for our staff to be part of all the student achievements, particular supporting their admirable resilience over the last two years. This has been matched by many accomplishments.
"During their time with us, the students have demonstrated the Academy's values to commit, believe and achieve in themselves and it has been a joy to see this reflected in their results today.
"Thank you to all staff for their unwavering commitment in providing a high-quality educational experience and always encouraging learners to aim for success."
The Government announced earlier this year that students undertaking GCSEs would be awarded grades on an assessment by their teachers.
Teachers used a vigorous process with performance gathered through work including mock exams, homework and work completed as part of students' courses, such as essays or in-class tests, as well as coursework.