New community-use changing rooms for Corby Business Academy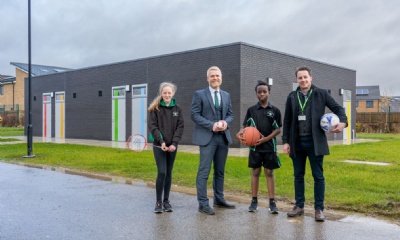 A new changing facility has been handed to the Academy with the funding coming from Urban&Civic's ongoing Section 106 contributions towards local community facilities.
The changing rooms, built within the grounds of the Academy, will be used by students as well as being available for local community use.
The building contains four colour-coded modern changing rooms, each with their own shower and toilet facilities, as well as two match officials' changing and shower facilities.
The changing rooms can be used by the local community when hiring the Academy's facilities, including a floodlit astro turf pitch, sports hall and grass football and rugby pitches. Bookings can be made online at https://bookings.edu-lettings.org/corby/corby-business-academy or by calling 0333 102 0303.
Mark Redding, Communications, Communities and Partnerships for Urban&Civic at Priors Hall Park, said:
"As well as constructing high quality homes, we are committed to playing an active role in supporting our schools and building a bright future for our residents.
Our work with Corby Business Academy is vital to achieving this and, as master developers, we'll continue to invest in the local community and quality of life at Priors Hall Park."
Mr Redding, who is also a Governor of Corby Business Academy added:
"It's incredibly rewarding for us to be able to support the local area, and we hope the new facility will make a difference to local residents."
Principal, Simon Underwood, said:
"We are extremely grateful and pleased with our community relationships with Urban and Civic, the completion and future use of the changing room amenities are recognised as providing support to our Academy, as well as the Priors Hall Park development process.
We look forward to many users benefiting over the coming years, with students and local residents able to access a high quality facility."
As well as Corby Business Academy, Priors Hall Park offers residents a host of on-site amenities including Priors Hall Primary School, multiple children's play areas and an impressive amphitheatre, as well as extensive outdoor space. It has also recently welcomed Sainsbury's Local, Busy Bees nursery, and a host of new independent businesses in the heart of the neighbourhood's community hub.
Once complete, Priors Hall Park will offer over 5,300 new homes, with prospective homebuyers now able to view and reserve homes from housebuilders Etopia Homes, Francis Jackson Homes, Jelson Homes and Lodge Park. Lovell Homes have also just commenced building on site with their first homes available from summer 2022.
To view more photos of the Changing Rooms click here.
For more information about Priors Hall Park visit www.priorshallpark.co.uk