Huge Congratulations to Ben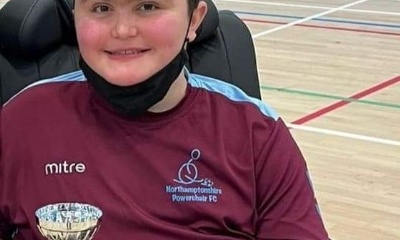 Ben Lattimore is in Year 10 mainstream and is part of Northampton Powerchair Football Club and last weekend saved a massive amount 25 goals, making the final score 25-0.
Powerchair Football is a version of football for people of any age who have physical disabilities. Teams can be mixed age and gender. The team was set up almost ten years ago by parents of disabled children who wanted to get into sport. Teams of four play two halves of 20 minutes each.

NPCFC are members of the East Midland league and of the Wheelchair Football Association, and are FA regulated. We have developed close ties with Northampton Town FC over the past year who provide practical support through their Community Trust.

Last week they played in a friendly event in Mansfield against a Nottinghamshire team. Ben is the main goalie, and had a clean sheet with no goals conceded. He also scored for the team, giving a great all round performance. At the end of a very enjoyable day he raised the cup along with his teammates. His teammates will be making a repeat trip in June to defend the title!

The Club was closed for 2 years during the COVID-19 pandemic and resumed activities in the autumn. The team is coached by the father of a former CBA student, Tom Dadd, who is also a member of the team. They train fortnightly in Northampton. We are open to anyone regardless of age, disability or gender - we have players aged from 5 to 17 at present - if you or someone you know might be interested in playing please contact the coach - details below.

We are entirely volunteer run and whilst our costs are modest, we do have to cover hall hire, chair maintenance, and our affiliation fees. We don't currently receive any external funding, so if you or your company would be interested in sponsoring a very worthwhile local cause please do get in touch we'd love to hear from you!

For more information contact the coach at simon.dadd@gmail.com