Festival of Music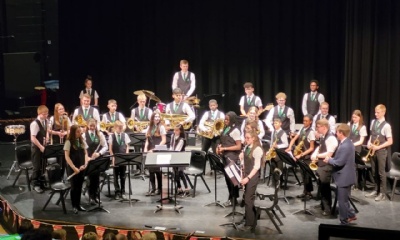 It was a great day for over 40 students from the Music Department on Saturday 12th March 2022. Musicians from Corby Business Academy Concert Band and the Big Band performed at the National Festival of Music for Youth at Northampton School for Girls.
Director of Music, Mr C Wears said: 'We were immensely proud of all of our students who performed on Saturday. We received some fantastic feedback and recommendations from the two distinguished adjudicators. They were quick to commend both ensembles including giving particular praise to Sullivan Rymarz for his 'cooking bass line', as well as a mention to the Politano brothers Gianni and Giuseppi, for their improvised solos with the Big Band on the Guitar and Saxophone respectively.
Stevie Harrison our new drum kit player was also noted for his mature performance.
This is the first time that many of our students have performed since the start of lockdown, as the last time the Concert Band performed publicly was at the Festival back in March 2020. It was great to be back performing, and we are now looking forward to some exciting projects over the months ahead.'
The Big Band performed two pieces including Birdland and Chameleon with the Concert Band playing a set of music including Pirates of the Caribbean and music from the ballet, The Nutcracker.