National Careers Week 2022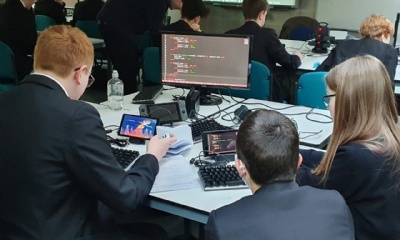 Tuesday 8th March – Games Development Experience Day
During our Careers Week, students in Year 10 had the opportunity to sign-up for sector specific Experience Days. Today's session, "Games Design" saw students coding their own design version of Pong.
Firstly, students were shown the language behind building the game, to gain an understanding. With this insight students then had the opportunity to be creative with their backgrounds, sounds and orientation of the ball (which for some students, became lemons!).
This challenge was a group project in which students were required to follow a brief, and work as a team to combine their thoughts and ideas. This style of activity mimics the Project Management skills they require if they were thinking of Games Design as a career – coding is not always about working alone.
Friday 10th March - Moulton College.
15 students got stuck into Professional Baking with Moulton College. They were given a client brief and then had to consider what would need to go into creating their masterpiece. They worked in teams to plan and then baked their goodie – as a bonus they all went home with some lovely smelling and fresh brownies.
7 Students joined the Countryside Management team at Moulton College where they learnt how a wildlife survey could impact the plans for new builds, farm expansions and wildlife populations. This was achieved by our going on a badger hunt. We located several of their burrows and with what was learnt we were able to decipher whether there was a high, medium or low level of activity. We concluded that the areas did in fact have Badgers, that some had been breeding, a few had upset tummies and that when recommending to landowners what measures can take place when expanding, well, a mixture of relocating the animals, diverting the plans and doing nothing were acceptable options.
10 students joined in for Physiotherapy with the NHS. We heard from a number of professionals in this sector as well as a few in training. Students were given the chance to answer a series of research questions set to them and then created Mind Maps of the information they discovered.
Next on our list is Construction Management and Trade and Engineering.