Informal Spring Concert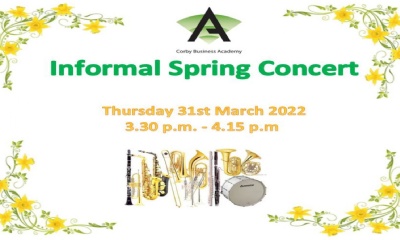 The Music Department have been extremely busy preparing for performances at the National Festival of Music for Youth which took place on Saturday 12th March. Many of you who attended, thoroughly enjoyed the performance provided by the Big Band and Concert Band.
For those of you who missed out, there will be another opportunity to listen to both groups perform. We would therefore like to present our programme again. This will take place in our theatre at Corby Business Academy on Thursday 31st March between 3.30 p.m. - 4.15 p.m. In addition to the Big Band and Concert Band, we have also invited CBA Singers and a number of soloists to participate in this concert.
We honestly can't wait to see our community back and look forward to welcoming those who can attend. Please see below the important links for booking details and information. We would be grateful if you do not arrive at the academy prior to 3.15 p.m. due to the safe departure of students departing on buses. Please click below to book tickets:
Informal Spring Concert Tickets, Thu 31 Mar 2022 at 15:30 | Eventbrite
We would be grateful if you could complete the form using the link below to provide consent for your child to attend the event:
Informal Spring Concert Consent
Thank you in advance for your support. If you have any further questions please contact me via email at clive.wears@corbybusinessacademy.org or call 01536303120