Corby Business Academy Concert Band make it to the National Finals!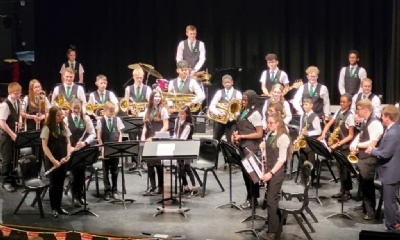 NATIONAL FESTIVAL OF MUSIC FOR YOUTH FINALS
Corby Business Academy Concert Band were notified this week that they have been invited to perform at the Finals of the National Festival for Music for Youth.
In March, the Concert Band from Corby Business Academy took part in the Regional Series of the Music for Youth Festival in Northampton. As a result of taking part in this regional qualifying event, the Concert Band have been invited to participate in the National Finals to be held in Birmingham. This is an amazing achievement and one with which the Academy are incredibly proud. The Concert Band are one of only a handful of bands in the country who have been invited to perform at the Festival.
The Concert Band will be performing at either the Symphony Hall or Town Hall. Both venues are truly world-class, and it will be such a great honour to perform in such prestigious venues. The performance will take place on Saturday 9th July 2022.
Parents and supporters are more than welcome to attend and support our wonderful students at Corby Business Academy. Further details will be available regarding how to obtain tickets in due course.