Yr 11 Prom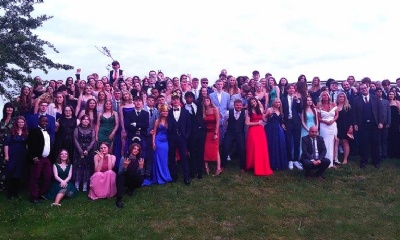 After 2 years of no Prom due to Covid our Year 11's got dressed up and looked amazing for their Prom night, held at the Holiday Inn Corby.
There was the usual array of fabulous dresses, smart suits and unusual modes of transport, including sports cars, as well as a stretch limo and old-fashioned cars. One student even arrived at the event on her horse! The students stepped out of their vehicles to loud applause from the large crowd of proud parents, teachers and friends. They were then welcomed by Mr Underwood.
Inside, students danced the night away to an excellent DJ set, ending a perfect evening with an award ceremony – marking the end of their CBA journey!
All our Award winners
Prom King - Lewis Kennedy
Prom Queen - Grace Tucker
Most Likely to be Famous - Serge Odia
Most Likely to Get Rich - Leon Darell
Sports Person of the Year - Niall Shackleton
Nerdiest Nerd (In the nicest possible way) - Reece Forsdike
CBA Drama Queen 2022 - Eleanor Rennie
Best Teachers - Laura Bond and Tom Peacock
Most Amazing Outfit - Annika Copeland
Sharpest Suit (kilt) - Jack Clarke
Couple Most Likely to Wed - Lucy Dando and Sam Haigh
Very special thank you to Bernie Smith for all her work in organising the Prom and everything she does at Corby Business Academy.
We would like to say a big thank you to all the staff at the Holiday Inn Corby and Gigglesbox Photo Booth. Both had said how lovely our students were.
Please see our Facebook page for all photos.