Perfect Attendance From Reece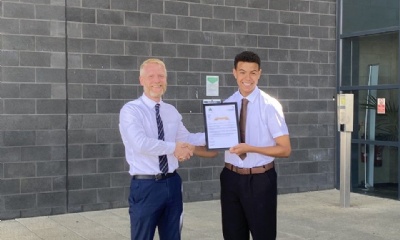 Reece Forsdike, a student from Corby Business Academy, definitely sets the standards for attendance.
During the past five years at the Academy, Reece has never missed a day off school. This dedication was also reflected in his primary school years, where he also managed to achieve 100% attendance in every year.
This means Reece has maintained his perfect attendance record for an impressive 12 years; sometimes battling through illnesses, so he is able to attend school.
Principal Simon Underwood said "Reece's achievement is exceptional. It is the first time in almost three decades of education that I have encountered this situation, he and his family should rightly be very proud. The direct correlation of good attendance and positive outcomes, or accomplishment, is recognised in all walks of life – whether this be educational attainment or success in a chosen career. The Academy's community are all in admiration of this feat."
"There is no doubt in my mind that Reece has an extremely bright future ahead of him. His resilience, attitude to learning and moral purpose will prove to be the foundations of his imminent successes."
Delighted Mum Dee Forsdike, said she was very proud of Reece's dedication and attitude to learning.
The Academy recognised this amazing achievement by presenting Reece with a framed certificate and letter of congratulations, along with a gift voucher to acknowledge his attendance record.