Royal Albert Hall experience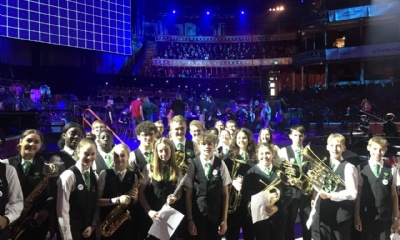 Please see the review below from two of our Concert Band students; Atiya and Hannah.
Corby Business Academy Concert Band at the Royal Albert Hall, London
Corby Business Academy Concert Band were thrilled to perform for the first time in their history at the Royal Albert Hall. On Tuesday 15th November 2022, students participated in the Massed Ensemble at the School Prom as part of the Music for Youth celebrations.
As musicians from the Concert Band, we can truly say that the trip was a once in a lifetime experience that was greatly enjoyed by all. Seeing the talent from all of the mixed ensembles from all around the UK was extremely inspirational. Playing as a part of a much bigger community was an influential moment that we will resonate with for the rest of our lives. We feel extremely lucky to have been given this opportunity. Performances that will stay with us are:
Norfolk Jazz Orchestra
Pear
Walthamstow Year 11 Steel Pan Band
Musica Youth Orchestra
We would like to thank Music for Youth, Mr Wears, Mr Smith and Mrs Smith for giving us this once in a lifetime opportunity; we feel very grateful. This moment will stay with us forever.
Other experiences this trip gave us included: seeing the architectural wonder of the Royal Albert Hall, Kensington gardens and gallery, visiting Hyde Park as well as seeing the historical statue of the Prince Albert Memorial opposite the Royal Albert Hall.
The Concert Band are one of only a handful of bands in the country who performed at the School Prom. The Royal Albert Hall is a truly world-class venue, and it was a great honour to perform in such a prestigious arena.
Atiya and Hannah