Year 10 County Futsal Champions 2023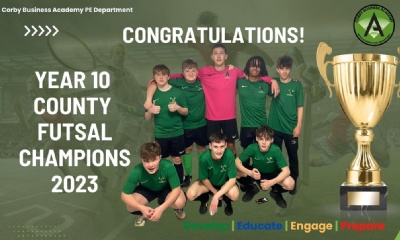 Congratulations!! Corby Business Academy are Year 10 FUTSAL COUNTY CHAMPIONS!!
Following on from the district success, the CBA team set the county finals on fire. The team sailed through their first 3 games beating The Ferrers School 3-0, Latimer Arts College 2-0 and Northampton International Academy 3-1. The final game saw them play Moulton Science College in what was a winner takes all clash. Moulton started quickly and ended up taking the lead, but that didn't last long. CBA showed their authority on the pitch and played through the Moulton defence on 3 occasions with this securing a 3-1 victory and being the first school in Corby to win the county title.