Oundle Festival of Music & Drama 2023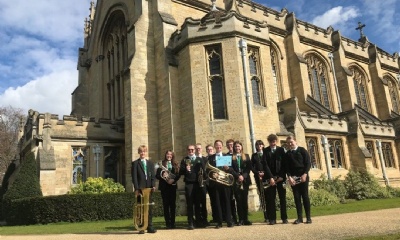 On Monday 27th March the Brass Ensemble and CBA Singers took part in the prestigious Oundle Festival of Music & Drama held at Oundle School. This was the first time in 3 years the festival has been held due to the pandemic.
The adjudicator for the day was Rosanna Whitfield who is also the Head of Junior Guildhall Conservatoire in London.
We are delighted to announce that both the Brass Ensemble and CBA Singers won their classes in the festival. The Brass Ensemble directed by Mr Fountain (NMPAT) were commended for their 'flexibility of programme' as well as 'their good rhythmic playing'.
For the first time in Corby Business Academy's history, CBA Singers entered the Festival. They were highly commended gaining a distinction for their 'good diction' as well as their 'intricate harmonies'.
The performance was a fine opportunity for a selection of our students to perform in such an incredible venue such as the Chapel at Oundle School. A great day and experience had by all. Well done to all of the participating students.