Young Enterprise Winners - Sprinkle the Magic gets a hat trick!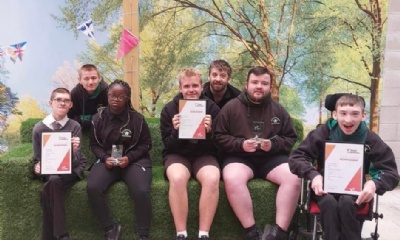 Congratulations to our Sixth Form Unit students for achieving a hat trick in the Young Enterprise Team Programme competitions this year! We are extremely proud of their amazing achievement. Sprinkle the Magic won Best Logo, Best Advert and Best Presentation.
We are delighted to announce that Sprinkle the Magic have won two more trophies. The team won the Best Advert Competition in March 2023 which was a close decision between the final 6 entries, and the judges' comments include:
'Engaging and impactful video with consistent brand messaging throughout. Loved how the video modelled how the product could be use and persuaded me that it would be a worthwhile product to buy',
'Great video clearly demonstrating the versatility and appeal of the product', 'Really good video to show the various uses of the product'.
The team returned after the Easter holidays determined to produce a fabulous presentation to show their Young Enterprise journey. They planned, practiced and delivered their presentation together showing great teamwork, communication skills and confidence. Their presentation was filmed and submitted for the Best Presentation Competition in May 2023.
Jenny Scully, Programme Support Manager, emailed yesterday to congratulate Sprinkle the Magic in winning the Best Presentation Competition and shared some lovely feedback from the judges:
'Very professional presentation and clearly spent time practising.
I liked how they thought about the environment for their products, as well as taking into account current economic conditions when looking at pricing.
Great logo, which is key for an identifiable brand.
It is always good to reflect on what went well, but also what you can learn from your experiences to ensure you continue to improve. Well done!'
'Sustainable products, environmentally friendly. Very proactively going to sales fairs, etc. Great team work, lots of thought and creativity in the brand and products. appealed to the ESG market with the vegan friendly goods and environmentally friendly'
We are all very proud of the students who have taken part in the Team Programme this year. They have worked hard developing new skills, producing products, attending sales and meeting deadlines. They have shown good team spirit and are always ready to support each other.
Congratulations!
For more information on their Young Enterprise journey, please click here.