Corby Business Academy celebrate A-Level results success.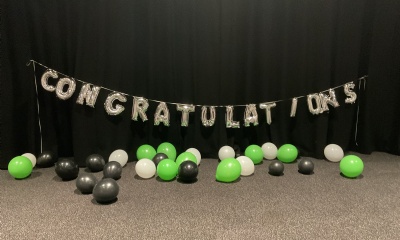 Students and staff at Corby Business Academy, part of the Brooke Weston Trust, are celebrating another excellent set of A-Level results. There have been some fantastic individual achievements for students and all staff are incredibly proud of this cohort about to embark on their next steps in both work and education.
The Academy's Principal, Simon Underwood said: "We are proud of the efforts of all our students, especially when you reflect on the turbulent national landscape they have had to work through in the past few years.
The Academy's student, family, and staff relationships have reinforced our collaborative and academic environment.
Again, an extremely high percentage of our students have achieved their first-choice destinations. This is always our ambition for each cohort when they enter our Sixth Form provision."
Top performers include Tom Anderson (A* Business, A* Mathematics, A Geography) who is going on to study Economics at the University of Leeds, Angela Bujac (A Mathematics, A Geography, A Business Studies, B Biology) who will be continuing studies at London School of Economics, reading Accounting and Finance and Nathan Matthews (A* Mathematics, A Computer Science, B Further Mathematics) who will go on to study Cyber Security at Lancaster University. Luka Jorgic and Diana Ciobanu both secured straight AAB across their subjects and are heading to study at University. Luka will be studying Finance Accounting and Management at the University of Nottingham and Diana will be starting a course in Games Technology at the University of West England in Bristol.
There was also been real success with high levels of progress being made by students during their Sixth Form studies. These include Gianni Politano who achieved As in both Maths and Further Maths and will be studying Maths at The University of Nottingham University. Morgan Lawrie who will be starting her degree in Primary teaching in September achieved a Distinction* in Health and Social Care as well as a B in Geography and a C in English Language and Literature. Daniel Zelinsky, Ashleigh Walters and Junhao Wang also made exceptional progress, exceeding their targets based on GCSE performance.
Andy Burns, Chief Education Officer (Secondary) at Brooke Weston Trust shared his feelings of pride: "Today is about celebrating these brilliant young people, but also acknowledging the contributions of their families and our staff – all of whom are key to creating the positive learning culture that we enjoy across Brooke Weston Trust. Nothing better exemplifies our core value of Ambition For All."