Corby Business Academy celebrate GCSE results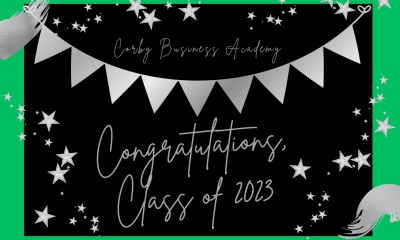 Students and staff at Corby Business Academy, part of the Brooke Weston Trust, are celebrating another year of GCSE success. There have been some fantastic individual achievements for students and all staff are incredibly proud of the hard work and dedication shown by this cohort in over their time at the Academy.
The Academy's Principal, Simon Underwood, said: "Our students are today quite rightly celebrating many outstanding results and achievements, all of which can be attributed to hard work and dedication.
"We are so proud of how our community has worked together over the past few years; with today seeing the benefits of our family partnerships. Students and staff can quite rightly be delighted with the accomplishments.
"There is immense pride and satisfaction in seeing our young people have the foundations to move on to their next stage of education, especially with a wide range of pathways and options now available to them."
Top performers this year include: Hanna Burska who achieved three 9s, four 8s and two 7s; Jakub Kowal who attained one 9, four 8s and three 7s and Amelia Vickery who achieved 8s and 9s across all of her 8 subjects. Martyna Kwsany, Charlie Turner, Ewan McCaffery and Harry Boden also achieved a suite of top grades each of them achieving 9-7 in every subject they studied.
There has also been real success with high levels of progress made by many students during their time at the Academy. Top performing students in regard to progress include Denisa Mitrica, TJ Cowie, Weronika Burek, Ilda Paulo, Vanja Cirkovic and Marko Dugic.
Andy Burns, Chief Education Officer (Secondary) at Brooke Weston Trust said: "I'm delighted for our students and their families, as they celebrate today. These GCSE results are a testament to the commitment they've put in over the last two years, supported brilliantly as always, by our wonderful staff across the Trust. They embody our core value of ''Ambition For All' and I am immensely proud of them.
"Given the significant disruption to learning that this year group has faced (since starting secondary school), these achievements are particularly impressive and we should take a moment to recognise this within this context."
Many of these students and those in the cohort as a whole will be staying at the Academy to study A'Levels in September.