Corby Business Academy celebrates award for 'Gold standard' in teaching History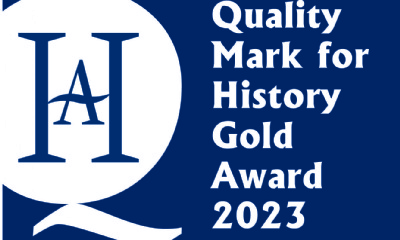 Corby Business Academy has received a prestigious award for its excellent History teaching provision.
The school, which is part of Brooke Weston Trust, has been commended for its exemplary standards in the key areas of teaching and learning, leadership, curriculum, achievement and enrichment around the subject of History.
The Historical Association Quality Mark is an award that recognises the excellence of History provision in a school. It assesses and grades the provision of the teacher, their department and offering to the students.
The award follows a rigorous process of assessment and an inspection visit last term, which incorporated classroom observations and discussions with staff, students and the school's senior leadership team.
The evidence gathered during the assessment concluded that each of the key areas is 'of a gold standard' at the school. Notably, the teaching and learning was deemed to demonstrate a passion for the subject, secure teacher knowledge, a structured but flexible approach and a harmonious learning environment.
Dr Fiona Rowe, Head of History at Corby Business Academy said: "I am thrilled that we have achieved this award. The History department is a passionate team, and we know the importance that History plays in developing the analytical and critical thinking skills of young minds.
"The process of attaining Gold Quality Mark status is meticulous, so I'm extremely proud of my departmental colleagues and would like to thank them for their continued hard work and dedication. I also want to thank our History students, especially those who met with the assessor, for their enthusiasm and commitment to the subject. This award is for them too." she added.
In the report, the assessor noted that the school: "offers a relevant and carefully-constructed curriculum, helped by excellent leadership, organisation and management."
The assessor continued: "The progress and achievement are impressive, supported by meticulous monitoring, feedback and support. The care, dedication and commitment to the subject are demonstrated also with the preparation and organisation of this Quality Mark assessment. It was a joy to be involved and thanks especially to Fiona Rowe for all her work on this."
Dr Andrew Campbell, CEO of Brooke Weston Trust expressed his pride in the school, saying: "Congratulations to Corby Business Academy for this amazing achievement! Dr Rowe and her team have worked hard to ensure that History is a respected subject with strong teaching delivery. They embody our core value of 'High Expectations' and are to be commended on providing such an outstanding History experience for our students."
A proud day indeed for all at Corby Business Academy.