Christmas concert hits the right note with audience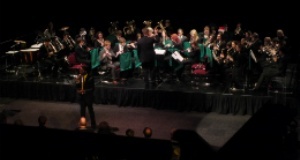 The Academy kicked off Christmas in style with a fantastic night of hit music and festive classics.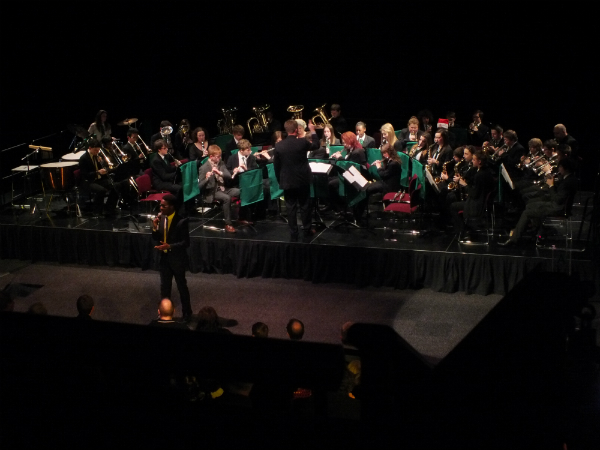 The Academy kicked off Christmas in style with a fantastic night of hit music and festive classics.
Our talented young musicians performed in front of a packed auditorium at their Christmas Concert on Wednesday 18th December.
The evening included hit songs by the likes of Bob Dylan and Tom Odell, popular festive numbers such as Rockin' Around the Christmas Tree and classical pieces like Bolero.
Director of Music, Clive Wears, said: "This concert showed very clearly how much talent we have here at the Academy.
"Our students have worked so hard on this show and that has shone through.
"It was a fantastic evening and a great start to Christmas for all the families who came along."
The soloists on the evening were sixth former Kyle Murrie, who performed Grow Old With Me, and Year 8 student Rebecca Loveday, who sang Have Yourself a Merry Little Christmas.
Year 11 GCSE music students guitarist and singer Eloise Robertson and mouth organ player Callum Connachie performed together on Bob Dylan's Baby, Stop Crying.
There were also performances by Senior Brass, Combined Strings, the Senior Woodwind Ensemble, the Junior Brass Ensemble, the String Quartet, the Junior Concert Band, CBA Vocalize, the Senior Concert Band, the Senior Choir, the Trombone Quintet and CBA Rockerz.
The concert certainly struck the right note with the audience.
Fazida Oozeer was in the audience to see her son Taysiir perform with the Junior Concert Band.
She said: "I thought the show was brilliant. I really enjoyed the young mouth organ player, he was very good.
"I've been to every concert since my son started here and I am very proud of him. When he came on I was cheering and clapping and I thought he did a very good job."
Taysiir's aunty Rafeeda Maudarbux also watched the show.
She said: "The show has been really good. The children work so hard. When you consider they have their music and all their academic studies too I think their achievement is brilliant. They should all be very proud of themselves."
Leigh and Andrew McKay went along to see their daughter, Year 7 student Abbi, play the tenor horn in the Junior Concert Band.
Mrs McKay said: "The show has been great and they have all done really well. We feel very proud of Abbi."
Mr McKay added: "I really enjoyed the Bob Dylan number."
Geraldine Riley, who attended the concert to watch her grandson Louie Anderson, said: "I've been very impressed. The standard of music has been very high.
"Some of the young students have only been playing a few weeks and I was really surprised by how good they are already."
The concert ended with a lively performance of All You Need Is Love by sixth former Andile Chiwuta and all the Academy's musical groups.
Vice principal Janet Duggan, who compered the evening, congratulated all the students who took part.
She said: "The Academy is a hotbed of musical talent. The standard has been exceptionally high and it's been a fabulous evening."
To see more pictures of the Christmas Concert click here


Performances on the night included:
Intrada Fanfare and Christmas Joy - Senior Brass
Fiddlin' with the Classics - Combined Strings
Elite Syncopations and Christmas Dinner - Senior Woodwind Ensemble
Spooks and Circus March - Junior Brass Ensemble
Rockin Around the Christmas Tree - String Quartet
First Sounds, Oh When the Saints and Jingle Bells - Junior Concert Band
Ho Hey and We Found Love - CBA Vocalize
Bolero, The Holly and the Ivy and Can Can - Senior Concert Band
In the Bleak Mid-Winter - Senior Choir
Little Donkey – Trombone Quintet
Green Onions and Rockin' Around the Christmas Tree – CBA Rockerz