Readers measure up well against Carnegie judges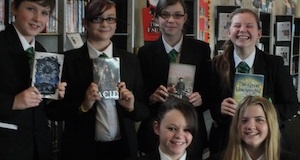 Our students have measured up well against some of the best read people in the country.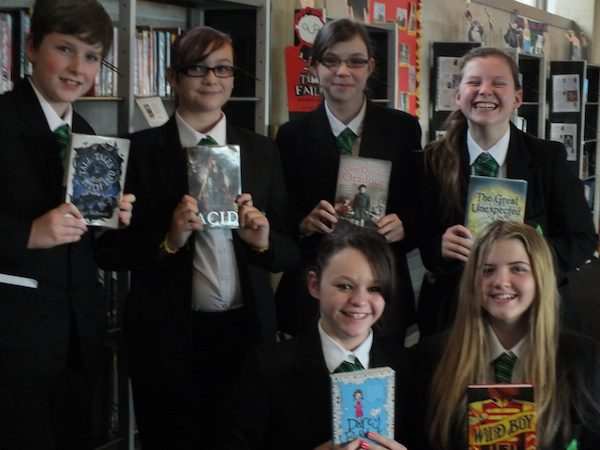 Our students have measured up well against some of the best read people in the country.
Since last November, more than 20 of our students have been trying to read the 140 books which were nominated for the Cilip Carnegie and Kate Greenway Children's Book Awards to see if they could spot the winners.
The 40 books which have made it through to the next stage of the awards, the longlist, were revealed last week and so far our students have been correct in their judgements.
Librarian Amy McKay said: "All of the students were very opinionated about the books and were really spot on with what wasn't going to make it through to the next stage.
"Louie Anderson in Year 8 read a fair amount of the books on the first list and he was spot on with his recommendations for the longlist.
"Another Year 8 student, Lauren Shirlaw, made comments about the books which were identical to the ones that the judges made. For example, there was one book which she said was not as clever as the author thought it was and the judges agreed and said the book was trying to be clever at the expense of plot.
"Niamh Scott, of Year 8, considered the judges' criteria and made some really good assessments as well.
"The Year 10 students were also pretty spot on with their views on the book they read, The Bunker Diary.
"Year 11 student Melissa Williams has also really promoted The Bunker Diary and as a result it's right up there on the library's borrowing list."
"It means the students really considered what they were reading and the quality of what they were reading.
"We're lucky here because we have new books coming in all the time so the students have the best contemporary books to choose from.
"This initiative also encourages them to read outside their comfort zone."
The students have now begun looking at the books on the longlist to see if they can pick which ones will make it through to the shortlist.
The shortlist will be announced on March 18th.
The books longlisted for the 2014 CILIP Carnegie Medal are:
The Boy Who Swam with Piranhas by David Almond (Walker Books)
All the Truth That's in Me by Julie Berry (Templar)
The Bunker Diary by Kevin Brooks (Penguin)
The Child's Elephant by Rachel Campbell-Johnston (David Fickling Books)
Ghost Hawk by Susan Cooper (Bodley Head)
After Tomorrow by Gillian Cross (Oxford University Press)
Heroic by Phil Earle (Penguin)
Blood Family by Anne Fine (Doubleday Children's Books)
Infinite Sky by C. J. Flood (Simon & Schuster Children's Books)
Charm and Strange by Stephanie Kuehn (Electric Monkey)
Monkey Wars by Richard Kurti (Walker Books)
Hostage Three by Nick Lake (Bloomsbury Children's Books)
The Positively Last Performance by Geraldine McCaughrean (Oxford University Press)
Brock by Anthony McGowan (Barrington Stoke)
Binny for Short by Hilary McKay (Hodder Children's Books)
Far Far Away by Tom McNeal (Jonathan Cape)
Ketchup Clouds by Annabel Pitcher (Indigo)
Rooftoppers by Katherine Rundell (Faber & Faber)
Liar and Spy by Rebecca Stead (Andersen Press)
The Wall by William Sutcliffe (Bloomsbury)
The books longlisted for the 2014 CILIP Kate Greenaway Medal are:
One Gorilla: A Counting Book by Anthony Browne (Walker Books)
Open Very Carefully by Nicola O'Byrne (illustrator) and Nick Bromley (author) (Nosy Crow)
The Paper Dolls by Rebecca Cobb (illustrator) and Julia Donaldson (author)(Macmillan Children's Books)
Weasels by Elys Dolan (Nosy Crow)
Puss Jekyll Cat Hyde by Joyce Dunbar (illustrator) and Jill Barton (author) (Frances Lincoln Children's Books)
Time for Bed, Fred! by Yasmeen Ismail (Bloomsbury Children's Books)
The Day the Crayons Quit by Oliver Jeffers (illustrator) and Drew Daywalt (author) (HarperCollins Children's Books)
The Dark by Jon Klassen (illustrator) and Lemony Snicket (author) (Orchard Books)
This is Not My Hat by Jon Klassen (Walker Books)
Where My Wellies Take Me by Olivia Lomenech Gill (illustrator) and Clare and Michael Morpurgo (authors)(Templar)
Mysterious Traveller by P. J Lynch (illustrator) and Mal Peet and Elspeth Graham (authors) (Walker Books)
Mouse Bird Snake Wolf by David McKean (illustrator) and David Almond (author) (Walker Books)
The Crocodile Who Didn't Like Water by Gemma Merino (Macmillan Children's Books)
The Journey Home by Frann Preston-Gannon (Pavilion Children's Books)
Abigail by Catherine Rayner (Tiger Tales)
The Lemur's Tale by Ophelia Redpath (Templar)
Oliver by Birgitta Sif (Walker Books)
Jemmy Button by Jennifer Uman and Valerio Vidali (illustrators) and Alix Barzelay (author) (Templar)
Too Noisy! by Ed Vere (illustrator) and Malachy Doyle (author) (Walker Books)
Sidney, Stella and the Moon by Emma Yarlett (Brubaker, Ford & Friends)