Second Curriculum Day is a huge success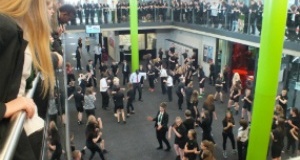 Students tackled obstacle courses, took fingerprints, recorded music, performed a flash mob and made films during our second Curriculum Day.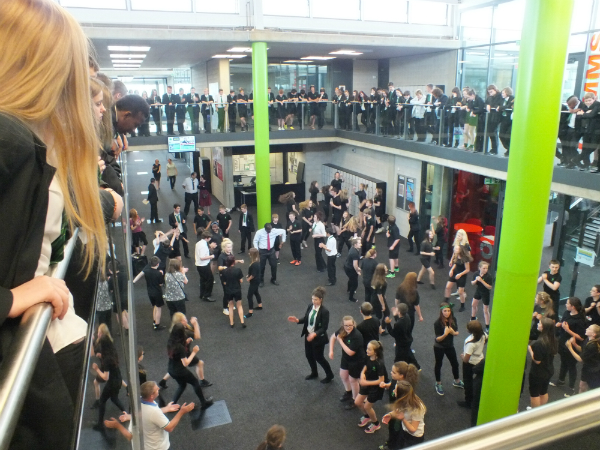 Students tackled obstacle courses, took fingerprints, recorded music, performed a flash mob and made films during our second Curriculum Day.
The popular event took place yesterday and gave hundreds of students the chance to try out a wide range of activities.
One of the highlights was a flash mob dance involving more than 100 students in the centre of the Academy.
Teacher Maxwell Sam took part in the flash mob.
He said: "The students choreographed their dances for the flash mob and it was a fantastic event.
"The dancers put in a lot of hard work and it was wonderful to see the other students cheering them on."
Students were divided into groups to take on dozens of different challenges.
The Forensic Detection initiative gave students the chance to study DNA profiling, fingerprinting and the examination of handwriting.
The Krypton Factor sessions included memory games, quizzes, an obstacle course, physical team-building exercises and challenges to build a floating pirate ship and a water clock.
The Europe During World War II project taught students about rationing and dance crazes from the period and they created a huge piece of artwork which
depicted a wartime bunker filled with people huddled together in the style of Henry Moore.
During the lessons about rationing the students cooked wartime foods, including honey oatmeal buns, fruity potato cakes, cheese and apple cake, cheese whirls and carrot cookies.
In the War Declared lessons they used their textiles skills to make bunting and flags for a victory party and produced a tablecloth covered in facts about the conflict.
The Scrapheap Challenge initiative gave students the chance to show off their creative side and make things from waste materials, such as football shirts.
During the Film and Communication sessions students created advertisements to promote CBA, pieces of music, dances and stop shot animated films.
Students made characters and sets from waste materials for the animated films, took shots with a digital camera and then edited their photographs into a film using the Academy's Mac computers.
Media Teacher Claire Howsam was involved in the making of the films.
She said: "The students did really well. None of them wanted to go to breakfast because they wanted to keep working.
"They were incredibly creative and came up with a lot of original ideas."
Lead Media Teacher Tim Hawkins was also impressed with the advertisements the students made to promote CBA.
He said: "The students used advanced graphic techniques and design layout skills to make their advertisements."
Lots of students also enjoyed the Forensic Science fingerprinting session.
Year 7 student Victoria Lewis said: "We took our fingerprints using ink and we learned every fingerprint is unique. I really enjoyed it."
Fellow student Gemma Tetley said: "I enjoyed dusting a balloon for fingerprints and popping the balloons afterwards."
Another student, Emily Lewis, added: "Taking the fingerprints was the best bit. I'm quite interested in forensic science so this was fun to do."
In the music session students recorded themselves performing the South African 2010 World Cup anthem Give Me Freedom Give Me Fire.
To see photographs of Curriculum Day click here
(Pictured above are the students taking part in the flash mob)