Safeguarding

Key Personnel - Corby Business Academy
The Designated Senior Manager for child protection is Ms Andrea Callender
Contact details: email: acallender@corbybusinessacademy.org tel: 01536 303120
The Deputy Designated Senior Manager is Mrs Janet Duggan
Contact details: email: jduggan@corbybusinessacademy.org tel: 01536 303120
The nominated Child Protection Governor is: Michelle Duffy contact tel: 01536 303120
Contact details: tel: 01536 303120
The Executive Principal is Mr John Henrys
Contact details: email: principal@corbybusinessacademy.org tel: 01536 303120
Safeguarding means:
protecting children from maltreatment
preventing impairment of children's health or development
ensuring children growing up in circumstances consistent with the provision of safe and effective care
taking action to enable all children and young people to have the best outcome
"the action we take to promote the welfare of children and protect them from harm – is everyone's responsibility. Everyone who comes in contact with children has a role to play."
A Safe Building For Safe Learning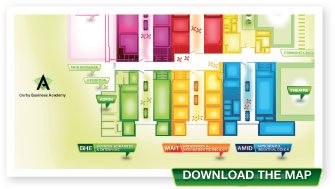 Right from its conception our Academy has been designed with safety in mind.
The glass walls and wide corridors ensure that not only are students visible at all times but that they can move between lessons safely.
In line with this we have designed our curriculum to minimise movement around the Academy during the school day. Students only move faculties twice a day and largely work with other students from their own year group, thus reducing disruption and removing the opportunities for bullying between year groups.
Integral to this safety conscious design is a smart card swipe system that allows only students, staff and authorised visitors into the Academy. The system also acts as an automatic register so that we will immediately know whether a child has not attended. A text is then sent to the parent so that we can quickly discover the reason for a child's absence.
Students also use individual toilet cubicles (which are also shared by staff. The building was intentionally built without toilet blocks to eliminate the areas where bullying can take place.
The absence of a staffroom means that staff are working alongside students within the public areas and so are on hand at all times.
A comprehensive CCTV system also means that security is at a maximum. Entry to the site is only gained through a barrier at the main gate and access to the building is controlled via our reception desk.
---
Safer Schools Partnership - working with outside organisations to ensure our students safety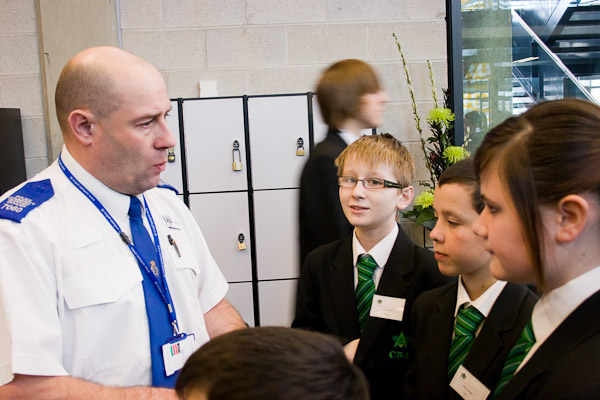 The Academy is part of the Safer Schools Partnership - a Northants Police led affiliation which focuses on supporting young people.
As part of this partnership the Academy has close links with the police, the local authorities and agencies to make sure that our students remain safe.
Being a member of the Safer Schools Partnership also means that the Academy has its own designated Police Community Support Officer who devotes his time and expertise to supporting relationships between our students, the Academy and the wider community.
CBA has also worked in partnership with Northants Police to introduce the Sharp system - a website where students can report anonymously any concerns they may have either in school or their local community. The programme - which has been used successfully in other parts of the country - also allows CBA to monitor the issues being raised and address them with specially-designed activities and talks.
To access the Sharp system click here.
---
Personal safety
Every effort is made so that any risks to a student's personal safety within the Academy environment are minimised.
To prevent incidents of bullying we have created individual toilet cubicles instead of toilet blocks and the Academy is also a cashless society - students top up their smart cards to pay for breakfast and lunch.
We also have an intensive pastoral care system, with a pastoral support officer (PSO) assigned to each year group. Our PSOs are available all throughout the Academy day if students would like to speak about educational or personal matters.
There are also on site nurses who can talk to students about any health concerns they may be worried about.
And we have established a mentoring system that involves older students mentoring the younger year groups.
---
Online/internet safety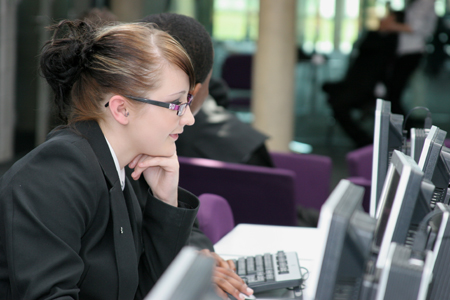 At Corby Business Academy we take internet safety extremely seriously and have put in place a number of measures to ensure our students are as safe as possible when accessing the online world and are aware of the risks that using the internet may bring.
As part of our online safety procedures all computers within the Academy (including laptops) are blocked from inappropriate websites.
All students have also attended an assembly about online safety, which explained how to use Social Networking safely and which agencies to report any online abuse to.
As part of this safeguard it is also vital that our parents are aware of the possible dangers to which the internet may expose their children and so we hold organised Parents Safety Information Events.
Representatives from the Police, Fire Service and drugs awareness charity Solve It have also delivered talks and provided information.
We have also held information events for students as part of Safer Internet Day.
Parents and students are also asked to visit the link at www.thinkuknow.co.uk
This website contains invaluable information put together by CEOP (Child Exploitation and Online Protection).
CEOP can provide help and information for parents who want to keep their children safe online. Through the ClickCEOP advice and help centre, members of the public can access guidance on a broad range of topics or report a concern directly to CEOP.
CEOP has been working with social networking sites such as Facebook, BEBO, MSN and other major providers to put internet safety advice at the fingertips of your child, through the ClickCEOP application. Here are some simple steps to help protect your child:

Facebook Users:
Visit www.facebook.com/clickceop to add the 'ClickCEOP' app to your profile and ask your children to do the same. The app is free and easy to use, and gives you immediate access to internet safety advice as well as being able to report any suspicions to us. If you become a 'friend' of the page, we will invite you to our free online safety surgeries and send you updates. By clicking on 'Add the App' on the left hand side of our Facebook page you can add the 'ClickCEOP' button to your profile.

MSN & BEBO Users:
Look for the ClickCEOP icon on the side of every profile page. It is a default setting and provides immediate access to internet safety advice and allows you to report any suspicions.

Web Browsers:
If you use Firefox, Internet Explorer 8 or Google Chrome, you can customize your browser, enabling users to see the ClickCEOP button, regardless of which website you're on.
For more details view the CEOP's Back to School Parent Letter.
---
Road Safety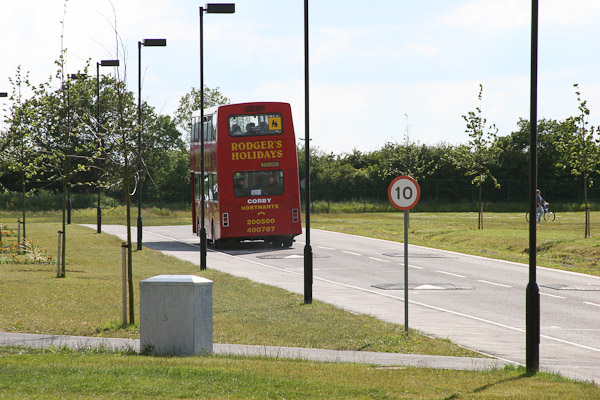 Due to the location of the Academy most students will arrive via the bus service or by means of parental transport.
To cater for those students staying to take part in Session 4 activities we provide two buses at 5pm and another at 5.45pm, so that they have a safe means of transport home.
We have put together the following guide for students who use the bus system to ensure they do so safely (link to pdf).
The roads within the Academy site also have a 10mph speed limit and we have installed speed humps along our main entrance route to reduce vehicle speed. There is also a zebra crossing outside the Academy entrance to ensure students can walk throughout the site safely.