Open Evening Virtual Event
September 2021 Intake

Dear Parents, Carers and prospective Students,
Thank you for considering Corby Business Academy as your choice of secondary school, we appreciate that this is an important decision and want to support you in these times.
Covid-19 restrictions will prevent us from carrying out physical tours of the building this year, so we have complied three main strands of guidance:
An online prospectus, which will also be distributed to Primary Schools in the Corby area and surrounding villages

Two video based virtual tours that allow you to hear from staff and students, as well as see the Academy building. These are for our mainstream and UNIT provisions

A Broadcast question and answer session led by the Principal. Further details can be found later in this notification
Prospectus 2021-22
Please click on the image below to view our 2021-22 academy prospectus, we trust you will find it informative and it gives you a strong indication of our provision: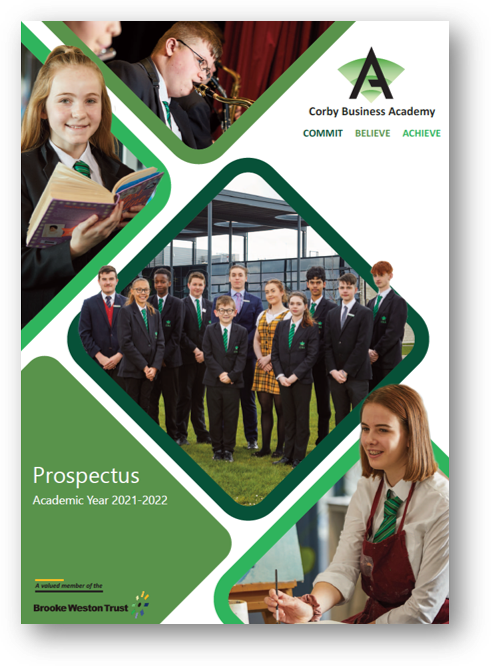 Virtual Tours
Please see below a link to our virtual tours. This can be accessed at your leisure and will enable you to see our facilities, as well as provide a sense of our passion for providing a high quality education for all students:
Mainstream:
Unit Provision:
Question and Answer Session
Our broadcast question and answer session can be accessed via the link below, on Monday October 12th at 5.30 p.m. The session will last between 45 to 60 minutes, depending on the volume of questions that are posed prior to the evening:
Our Principal, Mr Underwood, will answer as many questions as possible and, where appropriate, group relevant topics together to aid your queries and maximise communication time.
To raise a question, please use the following email address before 12.00 p.m. on Friday 9th October 2020. Please use '2021-22 admissions' in the subject heading / title:
Tours for students with EHCPs or those classes as vulnerable with a social worker, this includes Looked After Children
To support students with EHCPs or those classed as vulnerable with a social worker, this includes Looked After Children, we can offer a limited amount of socially distanced visits. Tours will be 25 minutes long and cater for a maximum of 3 people per family. Further details can be obtained from:
Heather Thompson, Year 7 Admissions, mainstream provision: heather.thompson@corbybusinessacademy.org
Caren Brown, Year 7 Admissions, UNIT Provision: caren.brown@corbybusinessacademy.org
Our staff will also liaise with Primary school link teachers, to ensure we can support your choice and obtain relevant information prior to these visits.
Admissions
To find out more about Admissions and to view our Admissions Arrangements Page please click here.