Optional Extra-curricular Activities
We are all too aware of the challenges for families and students during current national school closures. Therefore, we have created a booklet below with optional choices for our community to engage with at their leisure. Please feel free to access these in your own time, after timetabled lesson or indeed the weekend. Whilst we will maintain our lesson delivery and academic communications with you, we are also keen to support your well-being.
This document is split into the five different sections indicated below. Each section has its own page designed by specialist staff with lots of links and activities for you to engage with.

Please click on the image below to open the booklet: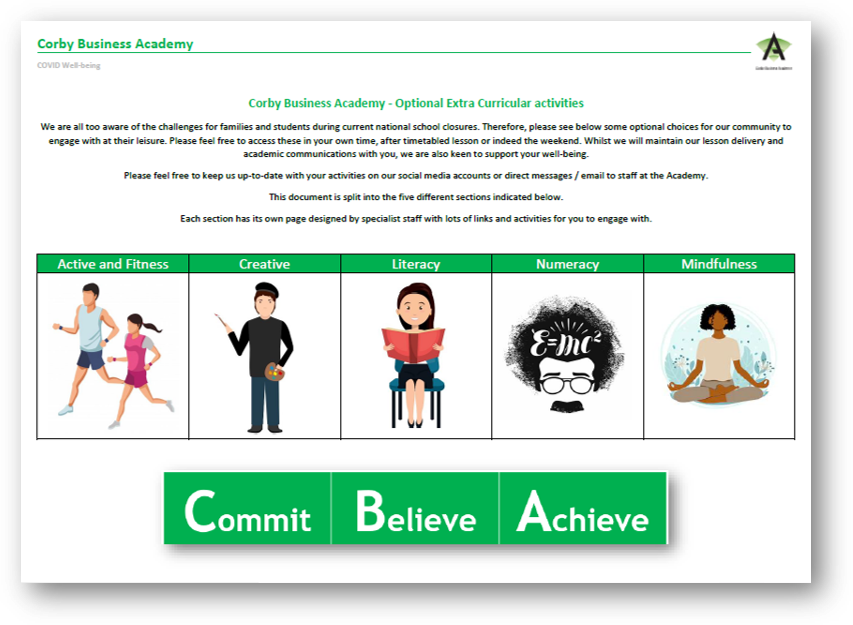 Well-being Extra-curricular Activities Booklet

We have also created a booklet for everyday well-being. We know that one of the challenge is spending lots of time in front of a computer or tablet as well as trying to remain active. We have therefore created a guide that can be incorporated in your daily routine.

Please click on the image below to open the booklet: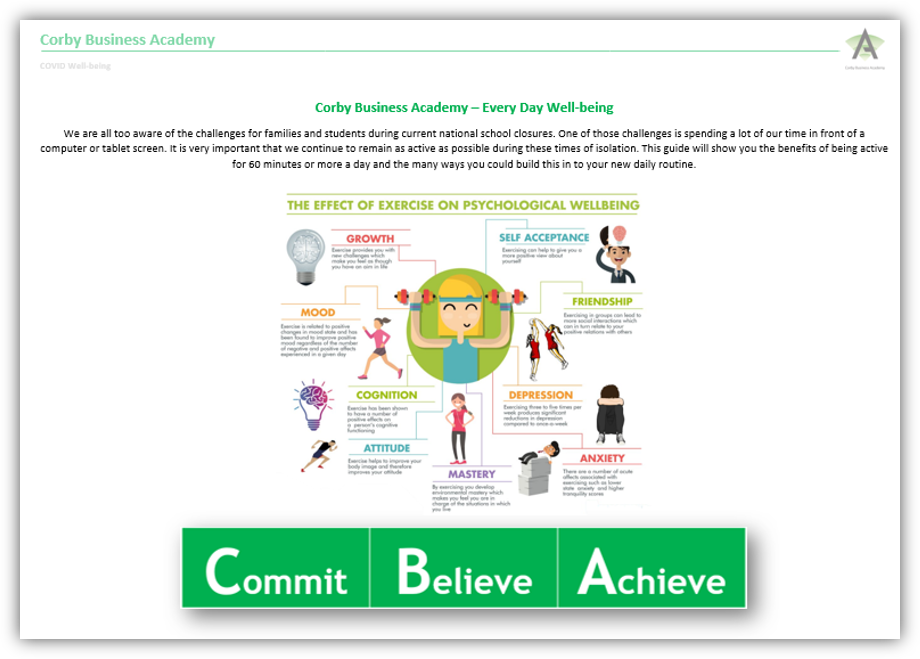 Well-being and Lockdown League Week

Please click on the below notification for more information about Well-being and Lockdown League Week: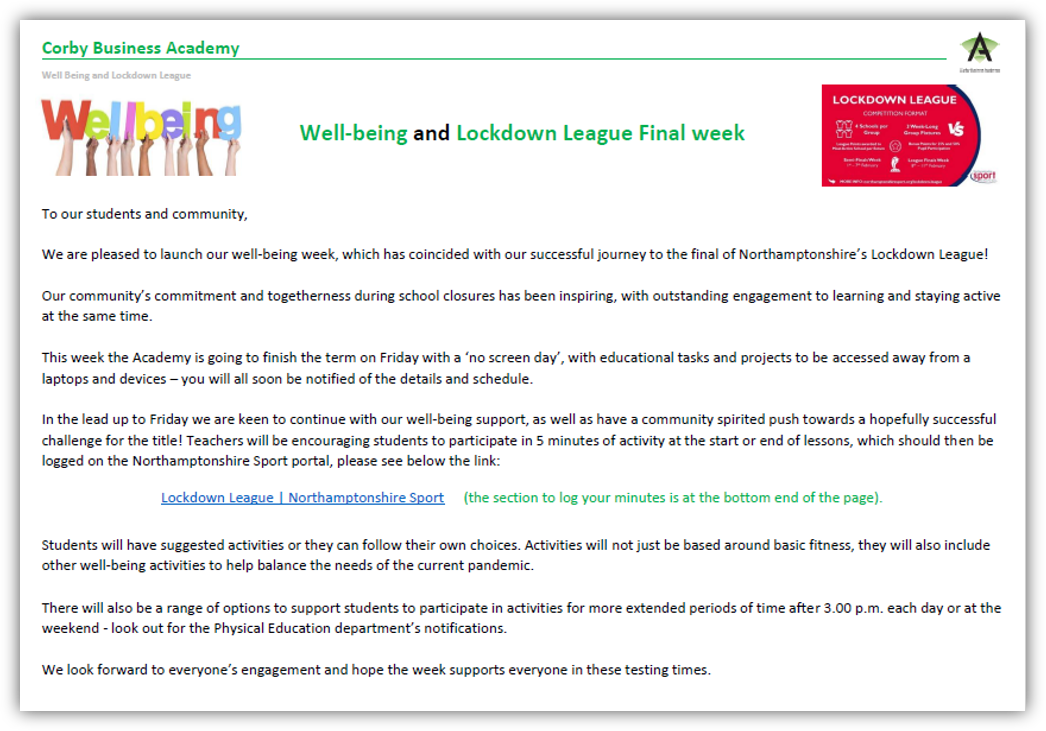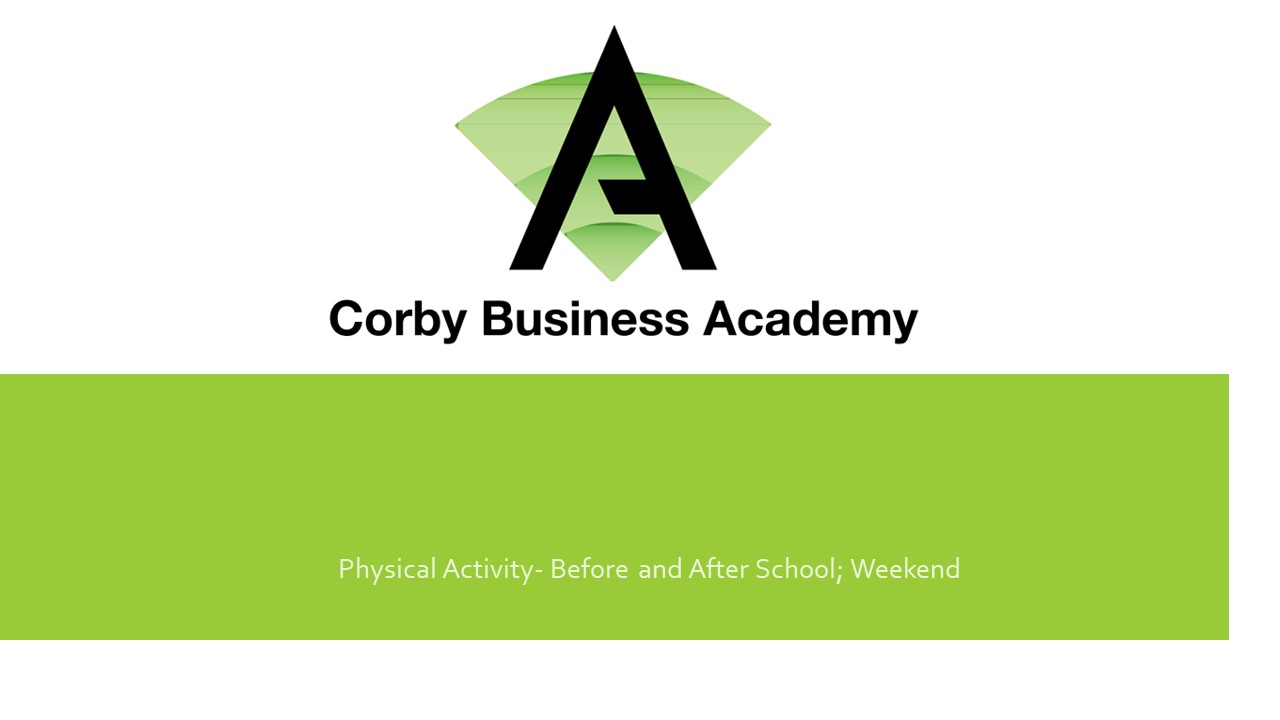 Physical Activity - Before and After School; Weekend Booklet
Well-being
Aspire Higher
Every person at some point in their lives, gets to the point where they feel everything going on in their lives is too much to deal with. For some, it is not until they reach adulthood that they experience this, for others it can be in their youth. There is no shame in admitting to ourselves, and others, when we feel that life is getting to that point. The lockdowns that we have been living through over the last year, have applied extra pressure and we need a little extra help and guidance now more than ever.
With that in mind, we have identified a series of webinars that can help us all through. The following recordings have been created by Dr Mike Scanlan on behalf of the Northamptonshire Aspire Higher programme. Corby Business Academy have been working beside Aspire Higher for 4 years so far and they have supported the academy with a number of activities and resources.
These are the latest that they have funded on behalf of our students:
1. Coping with the pressure of achieving
2. What works to feel less stressed
3. How do I stop anger from making me mess up
4. Learning how to face your fears and overcome them
5. Being calm enough to concentrate well
SSS Learning have also produced a video for child mental health and well-being containing 10 topic tips for parents and carers.

Just Be - Well-being Resources
Secondary School Aged Students

Parents
School Staff
Mental Health Foundation
The Mental health Foundation has created a list of 10 practical ways to look after your mental health. Click here to find out more and access more of their mental health resources:


Teen Yoga (January - February 2021)
Corby Business Academy has arranged for our students and families to enjoy a free, online, 45 minute yoga session; every Thursday at 3.10 p.m. - 4.00 p.m. until the end of term.

These online exercise classes are being delivered by a qualified instructor from the Ironstone Wellbeing Centre, Kettering. Whilst aimed at teenagers, the classes are suitable for all - whether you have practised yoga before or never at all.

The Academy is funding the classes in the hope that it will assist our students, parents, carers and staff to deal with the stress and anxieties of lockdown. Over the three sessions, Sue will teach different techniques and the skills needed to cope with the challenges a teen faces on a daily basis.

Please view the video below to see the session sequence flow:


To join in, please click here to complete a form and make sure to press submit once you're done. Please note that signing up is for this activity is for Academy stakeholders only. A Microsoft Teams link will be sent out to all who have registered by midday, each Thursday. We hope to see you there.

The dates are:
Thursday 28th January 21
Thursday 4th February 21
Thursday 11th February 21
Please note:
All cameras and microphones of participants will be switched off, and staff from the Academy will be monitoring the session for safeguarding purposes.
Our agreement with the Ironstone Wellbeing Centre means that only those who attend our academy, or have a child here, can participate. To ensure we comply to that agreement, if we cannot link you to a child at the Academy, we cannot send you the link. If you have any queries please email judy.edwards@corbybusinessacademy.org.