Unit Provision - Young Enterprise
The Unit Sixth Form participate in the Young Enterprise Team Programme each year.
The Team Programme is an enterprise journey for SEND students designed to aid transition from education into adulthood developing independent living and employability skills.
RS provide volunteer business advisers to work alongside the students and fund this enterprise project. Our business advisers, Bonnie Ghavami and Donna Constable, bring their knowledge and expertise from the world of work to guide the students as they set up and run their own student company. Each student takes on a job role and is responsible for an area of the business such as finance, sales or marketing.
Young Enterprise have introduced a competition for Team Programme students. The competition consists of three standalone competitions:
Best Logo Competition
Best Advert Competition
Best Presentation Competition
The results of these will then be considered to decide on 'Company of the Year'.
Through taking part in the Team Programme the students will have opportunities to develop confidence to communicate and interact with people in a variety of situations including: working as part of a team; gain confidence of handling money and understanding of numbers in a practical context; understand and develop essential life skills to help with transition into adulthood.
Please click on the drop-downs below to find out more about this year's Team Programme Company (Special Days) as well as the different competitions.
Team Programme Company - Special Days

This year's Team Programme company is called 'Special Days'. Our Managing Directors are Dillon Still, Year 13, and Sophie Edwards, Year 12.
The team chose a product to help people to stay connected in these unprecedented times. They decided it was important still to celebrate 'special days' even if they cannot be together and have come up with a range of birthday cards.
The students researched designs and decided on six ideas which would appeal to everyone. These included birthday candles, balloons and rainbows. They worked together to create the original artwork and text for their birthday cards. The students wanted a professional finish and chose Art Projects for Schools, APS, as the company to print their cards. APS works with the Woodland Trust, donating money to help plant more woodland across the UK with every bulk order of paper they buy. Special Days discussed the importance of protecting the environment where possible and have gone plastic free, even with their packaging.
The students decided to have the cards delivered 'flat packed' to keep the costs down, allowing them to sell at a lower price making them affordable to most people. They now work together to package their cards giving them a real work experience whilst developing communication, numeracy and fine motor skills through these practical activities.
The cards are now available to buy at £3 per pack by contacting Miss Clark, Link Teacher, nikki.clark@corbybusinessacademy.org or Bonnie at https://www.facebook.com/UpBalloonsCorby/
Due to the current pandemic, cards can be posted directly to you at an additional cost to cover postage and packing.
Best Logo Competition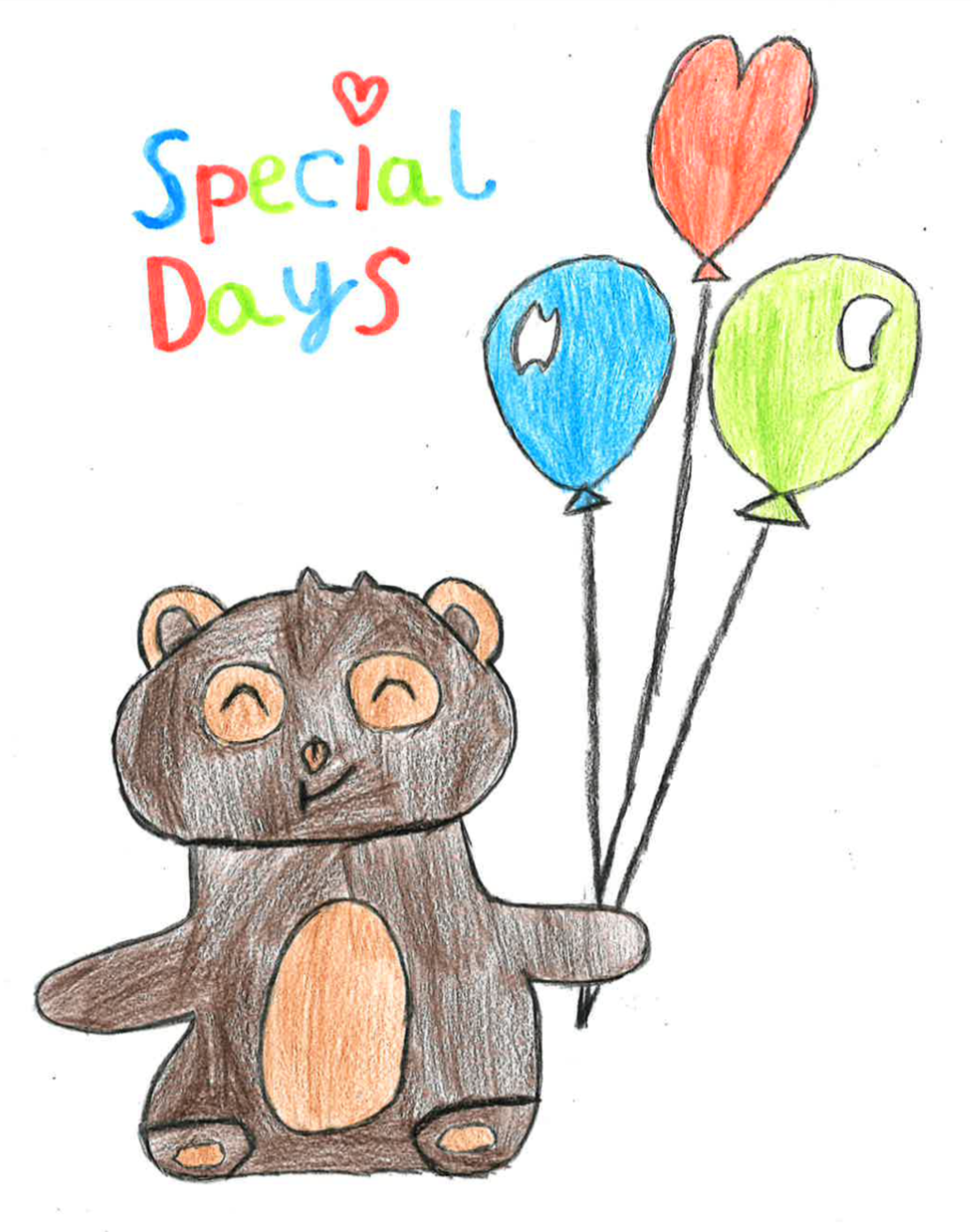 Special Days decided that they wanted a fun, hand drawn style logo which reflected their product and gave them the flexibility to build on their products in the future. Michal Walczuk designed and drew Special Days logo for the company and the Team Programme competition. He listened to feedback from his team and adjusted his design accordingly.
Special Days were placed second in the competition with the following feedback from the judge, Dermot de Courcy Robinson, Managing Director at Maxx Design: 'Lovely happy design. I loved the hand drawn feel of this logo and especially the reflections on the balloons. The heart balloon is a great touch. Made me smile, and anything that evokes a positive reaction is OK by me!' January 2021
Best Advert Competition

Special Days decided to enter the Team Programme Best Advert Competition in February 2021. This competition had additional challenges with a national lockdown and most students working remotely from home. However, the Unit Sixth Form took on the challenge and participated in live Enterprise sessions on Teams led by their teacher, Nikki Clark, and supported by RS Business Advisers Bonnie Ghavami and Donna Constable to make their advertisement.
The students decided on a video embracing the lockdown feel. They took part in all activities to create their advertisement showcasing their six birthday cards. Dillon Still, Liam Tilley, Sophie Edwards and Michal Walczuk all appeared in their video alongside others including their Business Advisor Bonnie Ghavami. Winners will be announced in March 2021.